Finance
How to Delete, Close or Deactivate My Opay Account without stress
Sponsored Links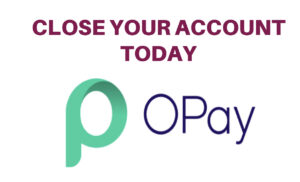 Have you been seen marching for the beat way to close or deactivate your Opay account but all was futile? I know how it feels. 
You must have search everywhere in the app but there is no particular menu where there is deactivation. 
Well, that's why I summon courage to write this blog post. Without wasting much of our precious time, take your time to read till the end of this article.
As our culture has always been, we give you close definition of the app in question and move on to address the issue. Let's dive in. 
Opayis a popular Fintech Platform in Nigeria, that offer different financial services such as mobile money transfers, bill payments, and Airtime, loan and lots more.
With closer examination, I discovered that there are numerous reasons why people deactivate their Opay account. Well, let me share some with you. 
Top Reasons why people close or deactivate their Opay Account
Before we dive into the steps on how to close or deactivate your Opay account, let's first explore some of the reasons why you might want to do so. Here are some common reasons:
1. Security concerns
One of the primary reasons why people close their Opay accounts is due to security concerns. As we all know, when it comes to finance, security is very important. 
Sometimes, when people feel that their account has been compromised or that someone has gained unauthorized access to your account, what they do without wasting much time is to request for the closure if the account. This usually happens when you lost your phone or SIM associated with your Account. 
2. No longer need the service
Another great reason why people close their Opay account is if they no longer need the service. For example, if you have switched to a different financial service provider such as Kuda or Palmpay, or no longer need to use mobile money transfers, they may deactivate the account.
3. Poor customer service
Sometimes Opay customer care representative might be funny. They may not reply to their customers on time and this may bring about frustration. 
Now the question is to you, if you have poor customer care service, will you continue to use the platform? The answer is No! So this is one of the main reasons why people close or deactivate their Opay accounts. 
Now, let's proceed with how to deactivate your Opay Account.
How To Delete, Close or Deactivate your Opay account
If you've decided that you want to close or deactivate your Opay account, here are the steps you need to follow:
Step 1: Clear your account balance
First thing first, before you can close your Opay account, you'll need to make sure that your account balance is zero. You can do this by transferring the remaining funds to another bank account or withdrawing the funds from an Opay agent.
Step 2: Contact Opay customer support
Once your account balance is zero, the next thing Is to contact Opay's customer support team. You can do this by sending an email to [email protected] or by using the in-app chat feature. Provide your name, phone number, and reason for closing your account.
Step 3: Verify your identity
Opay will require you to verify your identity before they can close your account. You may be required to provide a government-issued ID, such as a passport or driver's license, to confirm your identity.
Step 4: Wait for confirmation
Once you've provided all the necessary information and verified your identity, you'll need to wait for confirmation from Opay. As soon as they confirm your information, they will close your account. 
FAQS
Why did they disable my OPay account?
When you see that your account has been disabled, it's either your account has been suspected for frivolous activities or a person sent money to you with the narration "Crypto". Opay doesn't allow this because it's against their program policies. You can appeal by contacting the customer care representatives via Email at [email protected].
Alternatively, in some instances when you receive money that is higher than your daily limit either "Tier one or Two", your account would be disabled. So, if you encounter similar issue, kindly upgrade your Account to "Tier 3"
Is OPay a Nigerian company?
No! Though it was founded in Nigeria in 2018, it is never a Nigerian company. It's owned by Opera, a browsing company.
Conclusion
That's all about how to close and deactivate your Opay account. I hope you found it helpful. If you have any questions, don't hesitate to use the comment section. 
Thanks for reading. 
Sponsored Links