Finance
Kuda vs Opay: Which is Better?
Sponsored Links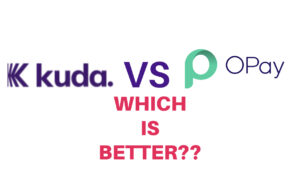 Welcome to your favorite website. Kuda and Opay are both mobile banking apps that provide financial services to Nigerians.
Kuda was launched in 2019 and has quickly gained popularity due to its zero charges on transfers, withdrawals, and deposits.
On the other hand, Opay is a payment platform launched by Opera Software in 2018. The platform was originally designed for ride-hailing services (Oride) but has been expanded to accommodate other services, such as airtime purchases, bill payments, and mobile banking. In this article, I will give you a clean and perfect comparison between Opay and Kuda. Let's dive in.
Features of Opay and Kuda
It's a daylight truth that one of the most significant similarities between Kuda and Opay is their features. Both apps offer mobile banking services, bill payments, and airtime purchases. They also provide instant fund transfers to other banks and have user-friendly interfaces that make it easy for customers to carry out transactions.
Now, Kuda stands out from Opay in terms of security features. The app uses a biometric login system that requires a fingerprint or facial recognition to access the app. Kuda also allows users to lock their accounts remotely, which is a useful security feature in case of theft or loss of a phone. Opay, on the other hand, requires users to set a PIN to access their accounts.
Another notable difference between Kuda and Opay is that Kuda offers a savings account with an interest rate of 10%. The savings account is automatically activated for users, and they can earn interest on their balance. Opay does not offer a savings account at the moment, but users can invest in their "FFixed" deposit program that offers an 18%  interest rate.
Pros of Kuda
charges on transfers, withdrawals, and deposits
High-interest rate on savings account
User-friendly interface
Biometric login system for added security
Remote account locking in case of theft or loss of phone.
Cons of Kuda
Limited availability of physical branches
Little or no customer support.
Opay pros and cons
Pros
Multiple services, including mobile banking, bill payments, and airtime purchases
No charges on Transfer
Investment opportunities through the Fixed deposit program
24/7 Customer support on the phone
User-friendly interface
Cons
Lower interest rate on investment program

No savings account option

Security is less robust than in Kuda
Kuda and Opay Comparison
Features of these Apps
Opay
Kuda
Launch date
August 2018
July 2019
Downloads (Google Play)
50+ million

 

5+ million
App rating (Google Play)
4.6 (out of 5) based on 1.3 million votes
4.5 (out of 5) based on 180 thousand votes
Transaction fees
0%
1%
Services
Mobile money transfer, bill payment, loans
Mobile banking, savings, investments
Withdrawal options
Bank transfer, ATM withdrawal, cash pick-up
ATM withdrawal, cash pick-up
Daily transaction limit
NGN 300,000 (~USD 720)
NGN 200,000 (~USD 480)
Debit card
Yes
Yes
Virtual card
Yes
No
Partnerships
Opera, OPay Food, ORide, OWealth
Interswitch, Flutterwave
While it is undeniable that both Opay and Kuda offer tremendous, convenience, and innovation in their respective offerings, it is crucial to note that Opay has broader services, such as a higher number of downloads, and boasts a superior app rating.
Not to mention, Opay also offers an irresistible proposition of zero transaction fees, making it the best choice for users who prioritize cost-effectiveness.
In light of these salient features, it can be cogently argued that Opay is the best option.
Conclusion
Thanks for reading this great piece. I am assured that you have gained proper insight into which platform is better between Opay and Kuda
Now, the ball is in your court to choose between the platforms. Users who value cost-effectiveness and security might prefer Kuda, while those who prioritize flexibility and customer support might choose Opay.
As I previously mentioned, the ball is in your court in deciding the one that suits your need. Thanks for reading.
Sponsored Links