Finance
Risevest Vs Passfolio: Which is Best for Investing in U.S Stocks?
Sponsored Links
Do you want to know more about Risevest Vs Passfolio? Take your time to read.
Welcoming to your favourite Finance blog. It's your favorite tech writer Seun Ogun, who can provide an honest analysis of which stocks are the best for you to buy (Risevest Vs Passfolio).
The idea of investing in US stocks has become more popular with investors seeking to diversify their portfolios and get access to the American market. With so many options for investment platforms, it is now difficult to select the most suitable one and that's why I have put up this article. Two of the most popular choices include Risevest and Passfolio. Make sure you take your time and read till the end.
What's Risevest and Passfolio
Before we start anything, it's crucial to first have an eagle view of this. 
Risevest along with Passfolio are two investment platforms that permit investors the ability to buy US stocks from any part of the world. Risevest is an investment platform that was introduced in the year 2018 on the other hand, Passfolio is also an investment platform that launched in the year 2019. Both platforms have seen a rise in popularity because of their user-friendly interface and low-cost fees.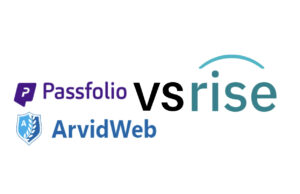 Features of Risevest and passfolio
Risevest
Risevest lets users put money into US shares, Nigerian stocks, and other assets, such as Eurobonds and crypto. 
This platform offers three options for investing: Stash, Wealth, and Crypto. 
Stash allows investors to make investments in US stocks for a minimum investment of $10 the Wealth on the other hand gives investors a broad portfolio of bonds, stocks as well as real estate investment trusts (REITs) with an investment minimum of $100. Crypto allows investors to invest in crypto with a minimum investment of just $10.
Check this: The Top 10 Car Insurance Companies in Nigeria now
Risevest has a management charge of 1.5 percent per annum for Stash and Wealth and a 1% charge for Crypto. There are not any additional fees for trading or commission costs. Now let's look at some features of Passfolio.
Passfolio
As we all know, Passfolio allows investors to put money into US stocks, Exchange-traded funds (ETFs), and crypto. It also allows commission-free trading of US ETFs and stocks and also low fees for trading in cryptocurrency. This helpful platform also provides the option of "Passfolio Financial", which allows users to get an account that allows them to purchase US stocks.
Passfolio charges a 0.5 percent foreign exchange fee when converting local currency into US dollars, as well as a fee of 1% for the withdrawal of funds. Like Risevest, or doesn't include any additional trading commissions or fees.
User Experience
It is worth nothing without mentioning the user experience of these platforms. In anything mostly online, user experience matters a lot that's why I need to make some touch on this. 
Risevest user experience
Risevest offers a user-friendly interface and has a mobile app that works on Android and iOS devices you can download them on either your Play store or the Apple store. 
It now provides the ability to get real-time prices and allows users to purchase US stocks quickly and efficiently. As a safe investment platform, it now offers educational materials as well as 24/7 support for users to make educated investment decisions.
Passfolio User Experience 
Like Risevest, Passfolio also has an easy-to-use interface and an app that is mobile-friendly for Android or iOS devices though it's not available on Playstore and Apple you can find it on popular app sites. It offers real-time pricing and lets users purchase and sell US ETFs, stocks, and cryptocurrency, quickly and conveniently. 
Passfolio also has the option of trading virtually which lets users practice trading without having to risk real money.
Security wise of Risevest and Passfolio
Thanks for reading to this great end. Both Risevest and Passfolio are committed to the security of their users and that's why they have integrated two-factor authentication, and S SL encryption to secure users' information. Risevest also provides insurance protection for up to $1 million of assets stored through the service. Now let's look at the better one for investing your money. 
Which Platform is Best for Investing in US Stocks?
When comparing the features and user interface of Risevest and Passfolio, it's clear that both platforms provide identical investment options and user-friendly interfaces which is awe-inspiring. There are however some key distinctions that could make one platform better to invest in US stocks. Let's take a deeper look at these. 
First, Risevest charges a higher management fee than Passfolio. Comparing, both platforms have lower fees, and the greater management cost could eat into the returns on investments over time.
Secondly, Passfolio offers commission-free trading for US ETFs and stocks which could save investors money throughout. Although Risevest is not a company that charges fees for trading or commissions, the greater management fees could reduce your savings and this is the major limitation.
Lastly, Passfolio offers different credit option, which allows users to withdraw money in other to purchase US stocks. This is a great feature for people who do not have money to invest but wish to make huge profits from investing in the US market.
After careful evaluation of the benefits and features of the two platforms, it's now audible to the deaf and visible to the blind that the Passfolio is the best option to invest in US stocks. The commission-free trading feature and the line of credit option make it an appealing alternative for investors who want to make investments in US stocks for less cost.
Conclusion
Thanks for reading to this great end once again. This is all about the comparison of Risevest Vs Passfolio. I think you can now make an informed decision and start your investment today. Weldon
Sponsored Links