Loans
Loans for Unemployed People in Nigeria | Apps for Lending Money to Poor People
Sponsored Links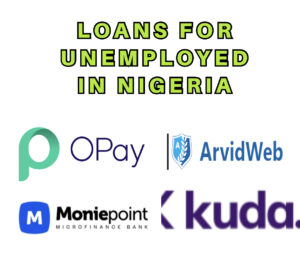 Have you found yourself in a tight spot as an unemployed Nigerian and you need a loan? Well, you are in luck because various loan apps in Nigeria cater to the needs of those without regular employment.
One of the myriad hurdles that unemployed people these days encounter is the inaccessibility of money.
Banks and other financial institutions are often leery of lending money to the unemployed, perceiving them as high-risk borrowers. Nevertheless, there exist a few viable alternatives that the unemployed can resort to, for financial assistance.
In the subsequent discourse, we shall delve into some of the loan options available to the unemployed populace in Nigeria. Take your time to read to the very end.
strap in and read on to discover the best loan apps for the unemployed in Nigeria
1. Apply for Microfinance Loans
Microfinance loans are one of the options that the unemployed in Nigeria can avail themselves of. These loans are typically proffered by microfinance institutions (MFIs), which are institutions that specialize in catering to the financial requirements of low-income individuals and small businesses.
Microfinance loans are ostensibly more accessible than conventional bank loans, as the eligibility criteria are usually less onerous. However, the interest rates on microfinance loans are higher than those of traditional bank loans.
If you are unemployed and seeking a microfinance loan, there are several MFIs in Nigeria that you can approach. Some of the popular ones include LAPO Microfinance Bank, Accion Microfinance Bank, and Grooming Centre. 
2. You can apply for Online Loans
This is another alternative to lending money to an unemployed youth In Nigeria. Countless Online lending platforms have gained immense popularity in Nigeria in recent years.
This type of loan is more accessible than traditional bank loans, as the application process is typically hassle-free and can be completed online.
However, the interest rates on online loans are usually higher than those of traditional bank loans.
Some of the preeminent ones these days include Paylater, Aella Credit, Branch, Quickteller, and Renmoney.
Kindly strap in and read on to discover the best Online loan apps for the unemployed in Nigeria!
1. Pay later
First of all is Paylater, a highly-rated loan app by Nigerians.
With just a few clicks on your mobile phone, it will provide quick access to credit facilities, making it one of the most reliable and trusted platforms to get instant loans in Nigeria.
As if that is not enough, pay later comes equipped with features such as no collateral and highly competitive interest rates.
You can apply for a loan between ₦1,500 to ₦500,000, and repayment can be made within 15 days to 6 months.
The Loan approval process is fast and efficient, and funds can be disbursed within 24 hours of loan approval. Moreover, Pay Later offers flexible repayment plans and doesn't penalize you for late repayment.
2. Aella Credit
This is another excellent loan app for unemployed individuals in Nigeria.
It offers different loan products, including loans for individuals and groups, to help Nigerians access credit easily.
The app uses a proprietary credit-scoring algorithm that is designed to ensure that loan applications are processed quickly and efficiently.
One of the standout features of Aella Credit is its quick and easy application process.
You can apply for a loan in just a few minutes, and the funds are typically disbursed within 24 hours of approval. Aella Credit also offers competitive interest rates, which are typically lower than those charged by traditional banks.
With its quick application process, flexible repayment terms, and competitive interest rates, Aella Credit is an excellent choice for anyone who needs access to credit to cover unexpected expenses or manage their finances.
3. Branch
Without mixing words, Branch is an excellent loan app that offers personal loans of up to N200,000 with a repayment period of between four to forty weeks.
One great thing about Branch is that it offers very low-interest rates. Currently, the branch has an interest rate of 5% for your first loan, which is a great deal compared to other loan apps.
However, it's essential to keep in mind that the interest rates for subsequent loans will be higher. Nevertheless, if you maintain a good repayment record, the app will continue to offer you a lower interest rate on future loans.
4. Quickteller
Moving forward, this is a Nigerian mobile app that provides an array of financial services, including loans.
Quickteller loans are easily accessible and have no collateral requirements. With Quickteller, unemployed individuals can apply for loans and receive a response in minutes.
Quickteller provides a flexible loan amount ranging from ₦1,500 to ₦500,000 and a loan term of up to 30 days.
However, the only downside of Quickteller loans is the high-interest rates that it charges, which can range from 2% to 10% per day.
Despite the high-interest rates, Quickteller is still a great loan option for unemployed individuals in Nigeria who need financial assistance.
FAQS
Can an unemployed person get a loan in Nigeria?
Yes. With the aid of Microfinance banks like Lapo, and online banks such as Palmpay, Renmoney, Bella to mention but a few, an unemployed person can apply for a loan and get it at her fingertips soon.
Can I get a loan without my BVN number?
There is a way to obtain a loan without necessarily giving out your BVN. Kindly read this article.
Is CBN giving any loans?
No. The Central Bank of Nigeria does not offer loans. However, it's the main organization that controls the flow of money in the economy.
Conclusion
Thanks for reading to the end of this great piece. That's all about the Loans for Unemployed People in Nigeria. Thank you for staying glued till the end.
Sponsored Links