Sponsored Links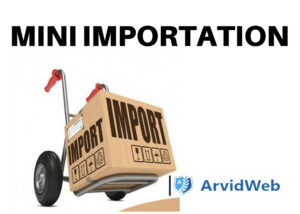 Are you interested in starting a mini importation business from China to Nigeria? If so, then this post is for you! Here, we will provide you with a step-by-step guide to ensure your success in this venture.
We'll go over all the steps you need to take to launch your mini importation business from China to Nigeria, and how to maximize profits. With our help, you'll be well on your way to becoming a successful mini importer in no time. So, let's get started!
How To Start Mini Importation Business From China To Nigeria 
1. Do your research
Before venturing into any business, it's important to do your due diligence and conduct proper research. In mini importation business, research helps you make informed decisions that will eventually contribute to the success of your business.
Start by determining what products are in high demand in Nigeria. Some popular products that Nigerians tend to import from China include electronics, fashion accessories, beauty products, and household items. You can carry out a market analysis or conduct surveys to determine the best products to import.
2. Find a reliable supplier
One of the most crucial aspects of running a successful mini importation business is finding a reliable supplier. It's important to conduct thorough research and due diligence to ensure that you are working with a reputable and trustworthy supplier who can provide you with quality products at reasonable prices.
One of the best ways to find a reliable supplier is by using online platforms such as Alibaba, AliExpress, or Global Sources. 
These platforms have thousands of verified suppliers and manufacturers who offer a wide range of products at competitive prices.
When searching for a supplier, make sure to carefully read their company profile, product specifications, and customer reviews. You can also check their ratings and certifications to ensure that they meet the necessary industry standards and regulations.
It's also a good idea to communicate directly with the supplier to establish a good relationship and clarify any concerns or questions you may have. 
You can ask for product samples to check the quality and reliability of their products before making a bulk purchase.
Another option is to attend trade fairs or exhibitions where you can meet suppliers in person, view their products, and establish a personal relationship with them.
In addition, you can also seek recommendations from other entrepreneurs who have experience in importing from China or seek the services of a reliable sourcing agent who can assist you in finding the right supplier.
3. Choose the right product
Choosing the right product is one of the most critical aspects of successful mini importation business. It can be challenging to find the right product with so many options available in China, so it's essential to choose carefully.
First, identify a gap in the Nigerian market that you can fill. What products are currently in demand, and what products are scarce? Researching and identifying market trends is key to finding the right product.
Next, ensure that the product you choose meets regulatory standards. Some products require specific certifications, such as the Standards Organization of Nigeria (SON) Certification. It is essential to know and comply with regulations to avoid losing money in the long run.
Lest forget, consider the cost of the product. A product that is too cheap may be of poor quality, while a product that is too expensive may not be competitive in the Nigerian market. Strike a balance between price and quality to maximize profit.
4 Place your order
Once you have chosen the right product and found a reliable supplier, it's time to place your order. This is a crucial step in the mini importation business, as it can determine the success of your venture. Here are some tips to ensure a smooth ordering process:
Get a quotation

: Contact your supplier and ask for a quotation. Make sure to include all the necessary details, such as product specifications, quantity, and shipping method. This will give you a clear idea of the total cost of your order.

Negotiate the price

: Don't be afraid to negotiate the price with your supplier. Most suppliers are willing to give discounts for bulk orders, so try to get the best deal possible.

Confirm the order:

Once you have agreed on the price and other terms, confirm your order in writing. This will serve as a contract between you and your supplier and will ensure that both parties are on the same page.

Make paymen

t: Before your supplier can start processing your order, you will need to make payment. Most suppliers prefer payment through bank transfer or PayPal. Make sure to keep a record of your payment, as this will serve as proof of transaction.

Monitor the production process

: After payment, your supplier will start producing your order. Make sure to monitor the production process and ask for updates regularly. This will help you anticipate any delays or issues that may arise.

Arrange for shipping

: Once your order is ready, you will need to arrange for shipping. There are several shipping options available, such as sea freight, air freight, or courier services. Choose the option that best suits your needs and budget.
5. Inspect your goods
Once your goods have arrived, it's important to inspect them thoroughly to ensure that they are of good quality and match your specifications.
Start by carefully examining the packaging for any signs of damage or tampering during shipping. Then, open each package and inspect each product individually.
Look for any defects, such as scratches, dents, or missing parts. Check the dimensions and weights of each product to ensure that they match what you ordered.
If you notice any issues, document them with photos and communicate them to your supplier as soon as possible. It's better to catch and address problems early on to avoid any delays or further issues down the line.
6. Market your products
Once your goods have arrived and have passed your inspection, it's time to start marketing your products. Here are some effective ways to get started:
1. Leverage social media
Social media platforms like Facebook, Instagram, and Twitter are great places to promote your products. Set up an account for your business and post photos and descriptions of your products. You can also run targeted ads to reach your desired audience.
2. Utilize e-commerce platforms
There are many e-commerce platforms in Nigeria that allow you to list and sell your products online. Some popular ones include Jumia, and Konga. These platforms already have a large customer base, which means you can tap into their traffic and increase your sales.
3. Attend Trade Shows
Attending trade shows in Nigeria is another great way to market your products. It allows you to meet potential customers face-to-face, showcase your products, and gather feedback. Trade shows also provide opportunities to network with other businesses in your industry.
4. Offer discounts and promotions
Everyone loves a good discount, so offering promotions can be a great way to attract new customers and increase sales. Consider offering a discount code for first-time customers or running a sale on certain products.
7. Enjoy your profits!
Congratulations, you've made it this far! You've followed all the steps, and now it's time to sit back and enjoy the fruits of your labor. One of the main reasons why many people get into the mini importation business is to make some extra income or even turn it into a full-time business.
So, how much profit can you expect from mini importation? The answer varies depending on the product, your profit margin, and your marketing efforts. Let's use a phone case as an example.
Assuming you import 500 pieces of a phone case for $1 each and sell them for $5 each, your revenue will be $2,500. However, you still have to factor in your expenses such as shipping, customs duties, and marketing costs.
If your total expenses come up to $1,500, your net profit will be $1,000. That's a 67% profit margin, which is pretty good. And this is just from one product, imagine if you had several products with even higher profit margins!
As you enjoy your profits, reinvest a portion of it into your business. For example, use it to order more stock or try out new products. The more products you have, the higher your chances of making even more profits.
FAQS
How much does it cost to start a mini importation in Nigeria?
One of the benefits of mini importation is that it is affordable and can be started with a low budget. With as little as 50,000 Naira, you can start importing goods from China and selling them in Nigeria for a considerable profit.
How does mini importation work?
Mini importation is simply the process of importing small quantities of goods from another country to sell in your home country. It is a profitable business model for entrepreneurs who want to start a business with low capital investment.
The first step in mini importation is finding a reliable supplier who can provide you with the products you want at a reasonable price. Once you've found a supplier, you can then place an order for the product(s) you want.

The next step is to arrange shipping for your products. You can choose to ship your products by air or sea. Air shipping is faster but more expensive, while sea shipping is slower but more cost-effective.

Once your products arrive, you'll need to inspect them to make sure they are of the quality you expected. If everything is satisfactory, you can then market your products and start selling them.

One of the great things about mini importation is that you don't need to sell a lot of products to make a profit. For example, let's say you import 100 units of a product for $2 each, and then sell them for $10 each. You would make a profit of $800 after deducting all the expenses.
Sponsored Links