health
Cost of DNA Test in Nigeria: DNA Test Requirements, Best hospitals for DNA Test in Nigeria
Sponsored Links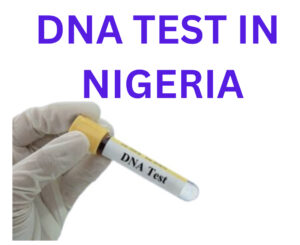 Are you looking forward to knowing the DNA of your children? Have you been suspecting that your wards are not biologically yours? Worry no more. I am here to introduce you to what we call DNA, the cost, test requirements, and the best Hospital that will give you the accurate result in Nigeria.
The advent of DNA testing has revolutionized the way we approach paternity, legal, immigration, and other DNA tests in Nigeria. 
DNA testing helps to provide accurate and reliable results to determine biological relationships, detect genetic disorders, and resolve legal disputes. 
Now the Cost of conducting this test depends on the hospital. Not to waste much of your time, I will give you all that you need to know about the DNA test
What is DNA? 
DNA stands for Deoxyribonucleic Acid. It's a blueprint or code that helps in determining an organism's traits (human and non-Human), such as its physical characteristics and how its body functions.
Since we know this, let's delve into knowing the cost of conducting DNA tests in Nigeria.
What is the Cost of DNA Tests in Nigeria?
As I have mentioned earlier, the cost of Conducting DNA in Nigeria varies depending on the hospital and the type of DNA you want to do. 
However, with my experience last week, the cost of a DNA test in Nigeria currently starts from ₦50,000 to ₦250,000 or even more. Let's take a look at the type of DNA and how much they cost.
1. Cost of Paternity Test in Nigeria
The cost of a paternity test in Nigeria ranges from ₦50,000 to ₦150,000, depending on the laboratory and hospital. 
The most common types of paternity tests are the peace-of-mind test and the legal paternity test. The peace-of-mind test is less expensive and can be performed without a court order, while the legal paternity test is more expensive and requires a court order.
2. Cost of Legal DNA Test in Nigeria
The cost of a legal DNA test in Nigeria starts from ₦100,000 to ₦250,000. Legal DNA tests are often required for legal disputes such as inheritance, child custody, and immigration cases.
3. Cost of Immigration DNA Test in Nigeria
The cost of an immigration DNA test in Nigeria is from ₦150,000 to ₦250,000 or even more. These tests are often required to prove biological relationships for immigration purposes.
That's all about the types of DNA and how much they cost. 
What are the requirements for DNA Test in Nigeria?
To conduct a DNA test in Nigeria, there are 3 main requirements that must be met. They include;
Consent: All parties involved in the DNA test must provide their consent before the test can be performed. This includes the alleged father, mother, and child in a paternity test, and all parties involved in a legal or immigration DNA test.

Identification: Everyone involved in the DNA test must provide valid identification documents such as a national identity card, international passport, or driver's license.

Sample Collection: DNA samples are usually collected through a simple and painless process such as a

cheek swab

. The samples are then sent to the laboratory for analysis.
Top 20 Best Hospitals for DNA Tests in Nigeria
S/N
Name of Hospital
Offices Location
1
SmartDNA
Lagos, Abuja, Port Harcourt
2
Medbury Medical Services
Lagos
3
Bridge Clinic
Lagos, Abuja
4
54Gene
Lagos
5
DNA Centre Nigeria
Lagos, Abuja
6
Geneith Diagnostic Centre
Lagos
7
Sickle Cell Foundation Nigeria
Lagos
8
Center for Molecular Diagnostics and Research
Abuja
9
A and E Medical Diagnostics
Lagos
10
Pathcare Laboratories
Lagos, Abuja, Port Harcourt
11
Synlab Nigeria
Lagos, Abuja
12
Clina-Lancet Laboratories
Lagos, Abuja
13
Medical Art Center
Lagos, Abuja
14
Me Cure Healthcare Limited
Lagos
15
Lagos University Teaching Hospital
Lagos
16
National Hospital Abuja
Abuja
17
University of Nigeria Teaching Hospital
Enugu
18
Ahmadu Bello University Teaching Hospital
Zaria
19
University College Hospital
Ibadan
20
Aminu Kano Teaching Hospital
FAQS
Which hospital is the best for DNA test in Nigeria?
The most recognized and best hospital in Nigeria is the Vicsly Medical Laboratory.
How much does DNA test cost in government hospital in Nigeria?
For you to do a DNA test in any prescribed Government hospital, you need to have at least N100, 000 to N200,000
Conclusion
Thanks for reading to this very end. I hope you found this article helpful.
Once again, thanks for reading
Sponsored Links